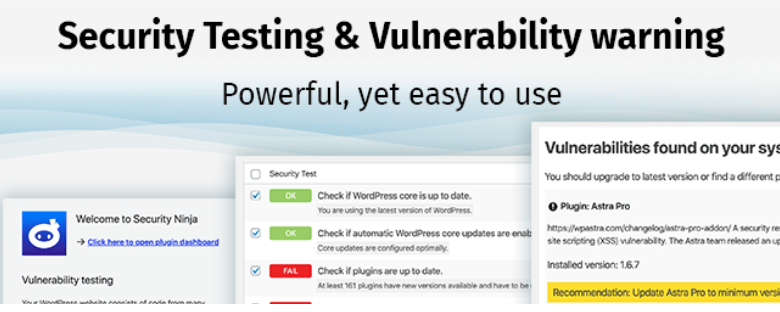 WordPress
Protect your WordPress Site with Security Ninja
WordPress has a reputation as a relatively safe and secure platform, but no website owner wants to leave space for some unwanted activities that can lead to site downtime. The most severe damage that can be done to your online business and negatively affect both your credibility and your revenues is a hacked site.
Hackers never sleep and are constantly looking to distribute malware and malicious software to steal information, crack passwords, etc. Nobody wants to end up in a situation where they have to pay the hackers to let them get in back into their own sites. A broken or hacked site creates a bad impression on existing and prospective clients and customers since no person is ready to compromise the security of their data either.

However, complete protection of any modern website includes a whole set of security components including a firewall, regular scans, and tests, scanned for malware, etc. Unfortunately, the stats imply that website hacking is one of the common unwanted activities that occur nowadays, but don't worry – today is your lucky day.
Let us introduce you to Security Ninja Pro, an efficient plugin that identifies any vulnerabilities in your WordPress website. It stands out as one of the most powerful security tools that keeps track of security issues, where it takes less than a minute to scan for critical areas. With more than a decade of tradition, Security Ninja counts over 10.000 active users and growing. What gives you an edge over the competition for all these years are the exceptional features it brings to make your website fully secure.
Scanning includes a check for over 50 known issues of malicious web tendencies which will no longer worry you. Before you discover more about the functions and features of the pro version, have in mind that you can try the free version. Let's discuss the modules it offers to raise the level of protection of your website. As one of those lightweight plugins that don't slow down your site, Security Ninja Pro confidently handles any security issues on the site and uses different methods of protection.
Security Ninja Pro
Before we get into detailed features that come with this powerful WordPress plugin, we must respect the fact that WordPress as a platform in its origins is not insecure, but as we add plugins, switch themes, and whatnot, we expose certain vulnerabilities that might result with a cyber-attack. We must reveal that the nature of WordPress is not insecure.
To keep up with the new vulnerabilities the plugin regularly undertakes activities that diminish the risk of being a cyber victim. The video below will help you warm up and get familiar with all the capacities of this must-have WordPress plugin. If you are one of those that want to see the plugin in action then the content below will be a great match for you because you will find out more in-depth what feature come with this powerful security giant.
With the scanning ability to identify and solve more than 50 potential types of issues, Security Ninja Pro does a great job in blocking malicious activities, as well as helping you fix them. Keeping the web platforms secure is quite a demanding task that consists of numerous activities and requires the coverage of several aspects to maintain efficient and quality protection.
The plugins like this one make us think differently. We advise any website owner to pay more attention and put more effort when creating passwords, as well as to use login security strictly for yourself. It is not a significant amount of additional time invested compared to the time spent on getting the site back from being hacked.
WordPress Firewall
Firewall protection prevents hackers from getting close to your site or accessing it in any way. Security Ninja comes with a built-in firewall that blocks attackers and malicious activities, serving your website with full protection. The block list contains more than 100.000 spamming addresses and uses Brute-force to block repetitive attempts to access the website by blocking its IP address.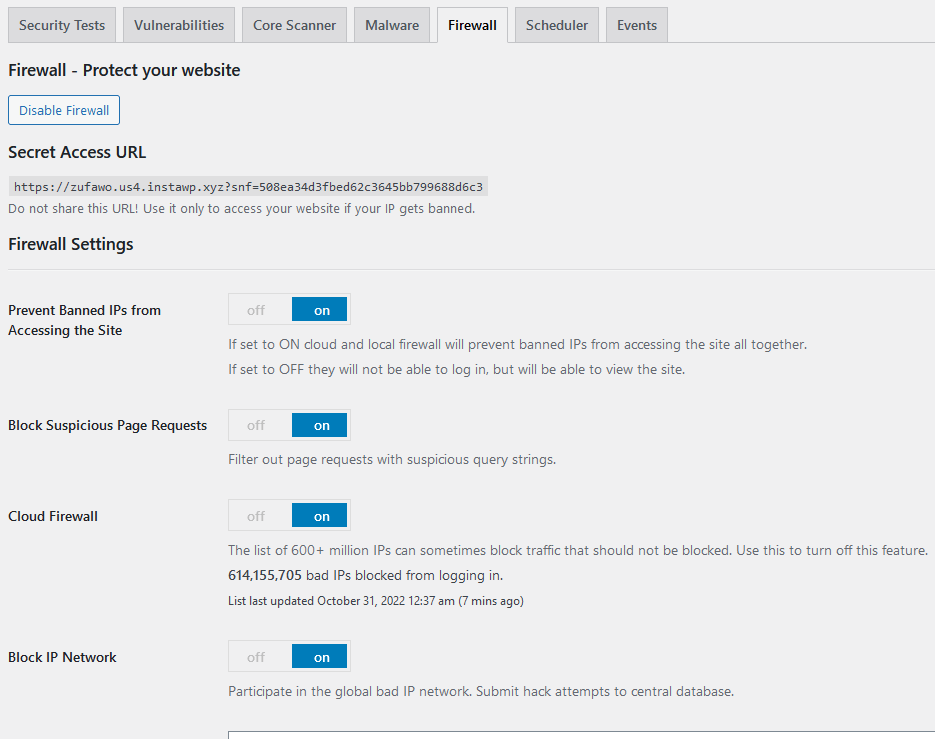 That way the threats are permanent, even if they are just automated scripts trying to get access to your site using the wrong login data. It occurs due to the unauthorized set of attempts to break into your site by using combinations of password characters, and the good news is that the firewall blocks repeated failed sign-in attempts. It will even let you set a limit so the one who attempts to break in gets banned for a certain period – which you also decide about.
All the different methods of protection it utilizes include blocking a list of bad IPs that gets updated daily, blocking by countries, WordPress admin URL change, etc. Changing the admin URL is crucially important and advised since it makes it hard for cyber-criminals to find a way to log in illegally. Bruteforce protection will make sure you remain immune to automated scripts and allow you to rename the login to something nobody else can know.
Malware Scanner for WordPress
It is no secret that the most secure websites happen to be hacked. That usually happens because of the new bugs unknown to defense systems. That's how we all know that protection from cyber attacks is the first and foremost, and almost never-ending process. However, as malware attack trends are on the rise, it is always a good idea to apply more security methods and diminish the risk. Malware Scanner for WordPress comes ready to meet your security needs.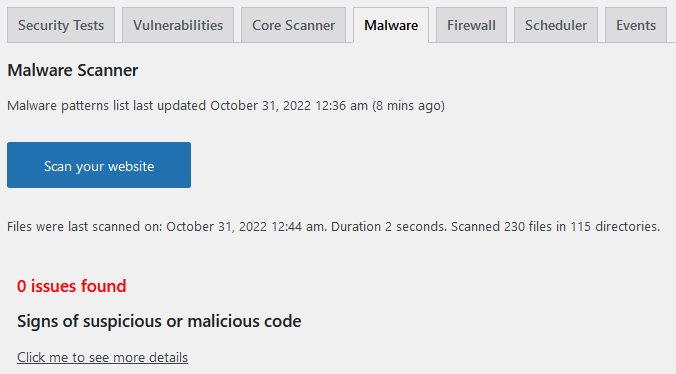 Aware of the fact that WordPress is an attractive target to hackers, Security Ninja confidently tackles security issues with this feature. Not only that the scanner of Security Ninja works super fast, but it also relies on the PHP malware scanner library code that is commonly found in several scripts and specific cyber-attack methods. It will scan everything: your theme, plugins, databases, as well as the WordPress installation as a whole.
Core Scanner Module
To make sure you are fully protected, Security Ninja comes with a Core Scanner module that will compare all the core WordPress elements and files by using a secure master copy. The idea is to scan the core files of the website for possible unknown files and infections. To remind you, the core files of the WordPress platform are the ones kept in the website's root folders such as wp-admin, wp-cron.php, and wp-config.php. Keep in mind that it is not suggested to apply any changes to those files if you don't want to deliberately make your website tweak.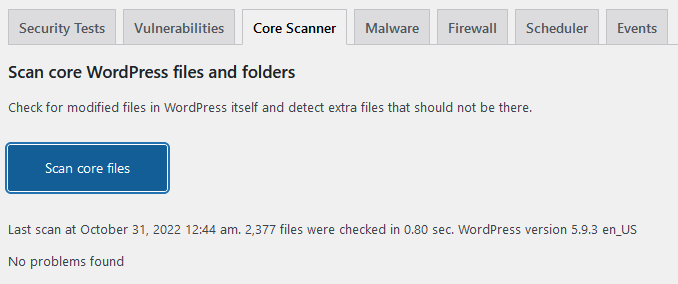 However, if the core files are modified it might mean that your website is hacked. This feature allows you to scan for modified core files and resolve issues if there are any. Scanned files further get compared to original WordPress core files by using an MD5 hashing algorithm. With a single click, you can conduct operations like identifying WP core files, restoring, fixing errors, or fixing broken WP updates.
Scheduled Scanner Module
The Scheduled Scanner module allows automatic scans that result in detailed reports delivered to your email. It is very easy to set up thanks to an easy-to-use Graphic User Interface. It is characterized as very user-friendly, with a detailed scan code. However, checking for malware manually is a time-consuming task, and features like Schedule Scanner. In case of a hack attack – you will get notified right away.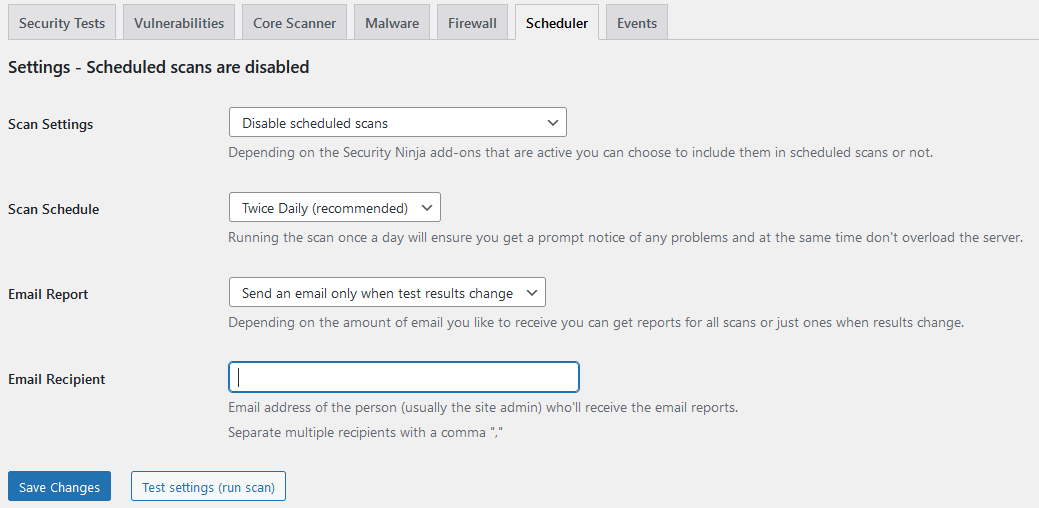 In terms of website security, the most desirable feature of all time is automated scanning for malware. With this feature Security Ninja Pro is a great time-saver – who doesn't appreciate that today? We must admit that automated scans offer quite a relief, and do not allow fake alarms. You get notified if something goes wrong at its beginning.
Events Logger Module
A module that emphasizes monitoring all the activity on your WordPress website is called the Events Logger Module. It will mark anything that has changed or is going to while letting you log the ones you find relevant. The ability to identify suspicious behavior before it escalates makes you easily locate and resolve security issues.
You can select to receive email alerts for desired groups of events. It is important to say that you as a user must know how it happened if it ever does, and the Events Logger module lets you get that information. Also, it is worth mentioning that it has no compatibility issues with any theme or plugin that is out there.
WordPress Vulnerability Scanner
Sometimes the plugins you already have represented a threat and a vulnerability to your website. The feature called Vulnerability Scanner within the Security Ninja plugin gives out a warning if there is a possibility of some plugin being abused by hackers. To make that happen, it scans public repositories related to WordPress and further compares them to the ones you have on your website. It is always better to find out about it before it even happened, right?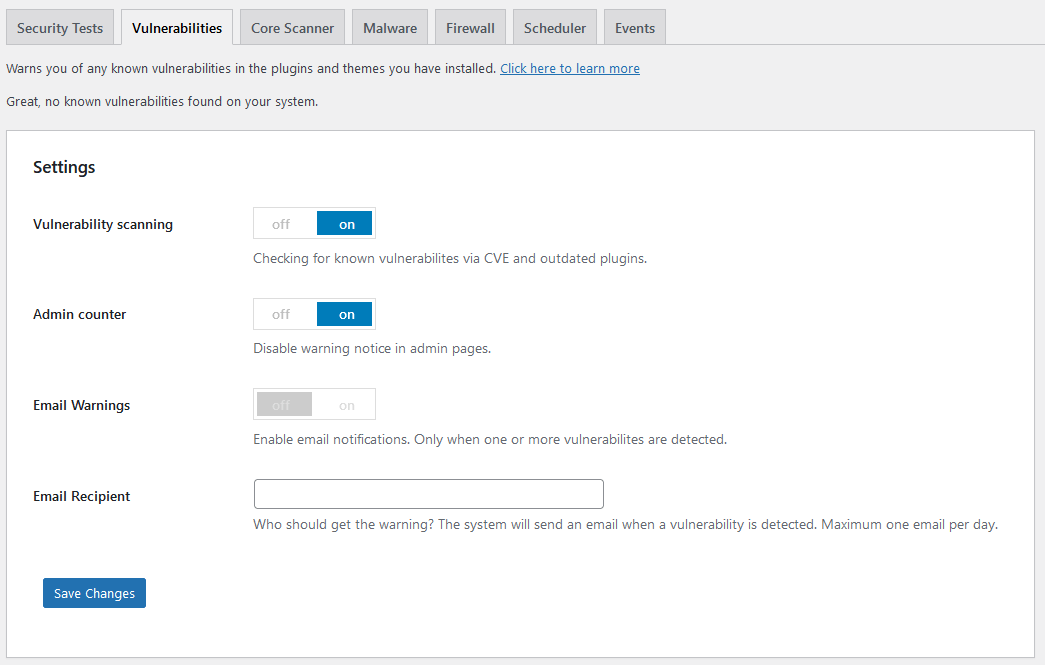 At the end of the day, we must be aware that looking for vulnerabilities inside themes and plugins became an everyday activity. The reasons for such activities vary but generally are placed into two categories. The first one is the people who want to exploit the company's information and those who aspire to protect themselves from different sorts of exploitation.
Security Testing for WordPress websites
For years Security Ninja Pro dominated the competition with a comprehensive framework for Security Testing for the WordPress website. Some of the core features include over 50 different security tests you can run to make sure everything works safely and flawlessly on your site.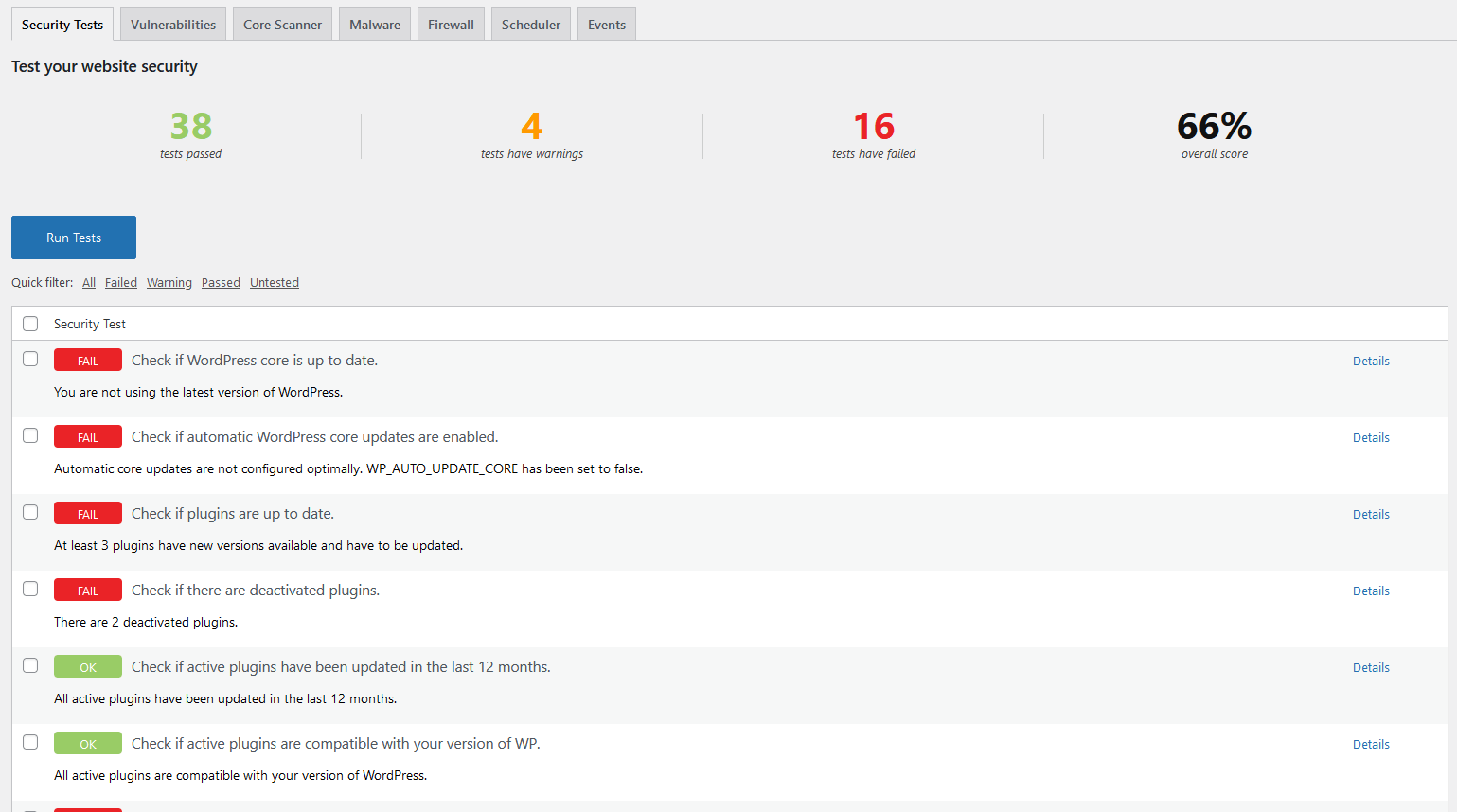 The beautiful part is that each test comes with information on how to resolve an issue that is found. From weak passwords to wrongly configured MySQL accounts, this feature will help you fix the issues.
Security Ninja for MainWP
If you are having some child sites, you probably wonder how Security Ninja fits. Security Ninja MainWP comes free and lets users identify issues on child sites without further installations or procedures. Administrators are now allowed to manage WordPress sites from a central location. Security Ninja works smoothly with Main Wp.
All you need to do is download and install the MainWP extension on your MainWP master site. Unlike earlier, people no longer need to install additional plugins on every child site. They rather rely on an easy integration with MainWP that is built into the main plugin instead. You can afford to test the plugin from here.
Bear in mind that the free version will not change your site in any way, but will still run over 50 security tests that will give you a clear picture of the current site's configuration. Even though the Pro version allows many fixes with just one single click, the free one will give you tips and code snippets to manually tackle the problem. Around 2011, with a growing number of users on daily basis, this one serves as an efficient security tool that guarantees the maximum protection for your WordPress site.
Conclusion
In the field of website security, what makes the vast majority of users cautious is the fact that experimenting with security plugins can impose a legit cyber attack. In other words, the right security tool will help your website avoid being infected by malicious content. To conclude why Security Ninja Pro stands out as a unique plugin that offers full protection, let's refer to the real experience. At first glimpse, the user interface catches the eye of the users, letting them easily get a sense of what is where.
Its elegance and neat design still give out a solid amount of information. More importantly, the built-in features that focus on site protection are simultaneously its primary assets. There is so much in the field of proactive protection and the ability to identify vulnerabilities in the website components like themes, plugins, etc. That is why it enjoys a reputation as a high-quality and effective security option for WordPress. Don't forget the ability to operate from the MainWP, especially if you run multiple sites.