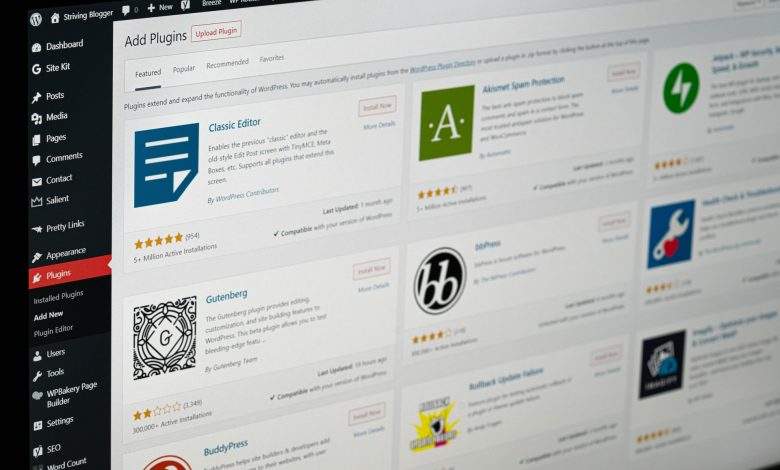 WordPress
Best Sticky Header Plugins for WordPress
As times change, technology develops more, and so do new trends. What was once optional has become a must-have today. Such is the situation with sticky headers and navigation. In addition to the fact that many today deal exclusively with adhesive elements and that they look elegant, adhesive elements also have certain advantages.
For example – if you use them on your WordPress website, sticky elements can bring you many benefits such as more visitors, branding, etc. With the development of some plugins, fixed navigation and headers are increasingly becoming a part of the past. What is also good about adding sticky elements is that you can check if your SEO is increasing and are the elements appropriate for the site. This will also improve the user experience, which is a great thing because, in the end, users/visitors come first.
We have created a list of WordPress plugins that will make it easier for you to add sticky elements. Let's take a look.
WP Sticky is one of the best and most popular plugins. It offers many options that will surely delight you. Best of all, you can choose how many elements you want to make sticky, and it is compatible with other themes and plugins.
WP Sticky will be the ideal solution if you want your visitors to be amazed. Also, you can choose categories where you don't want your selected element to be non-sticky.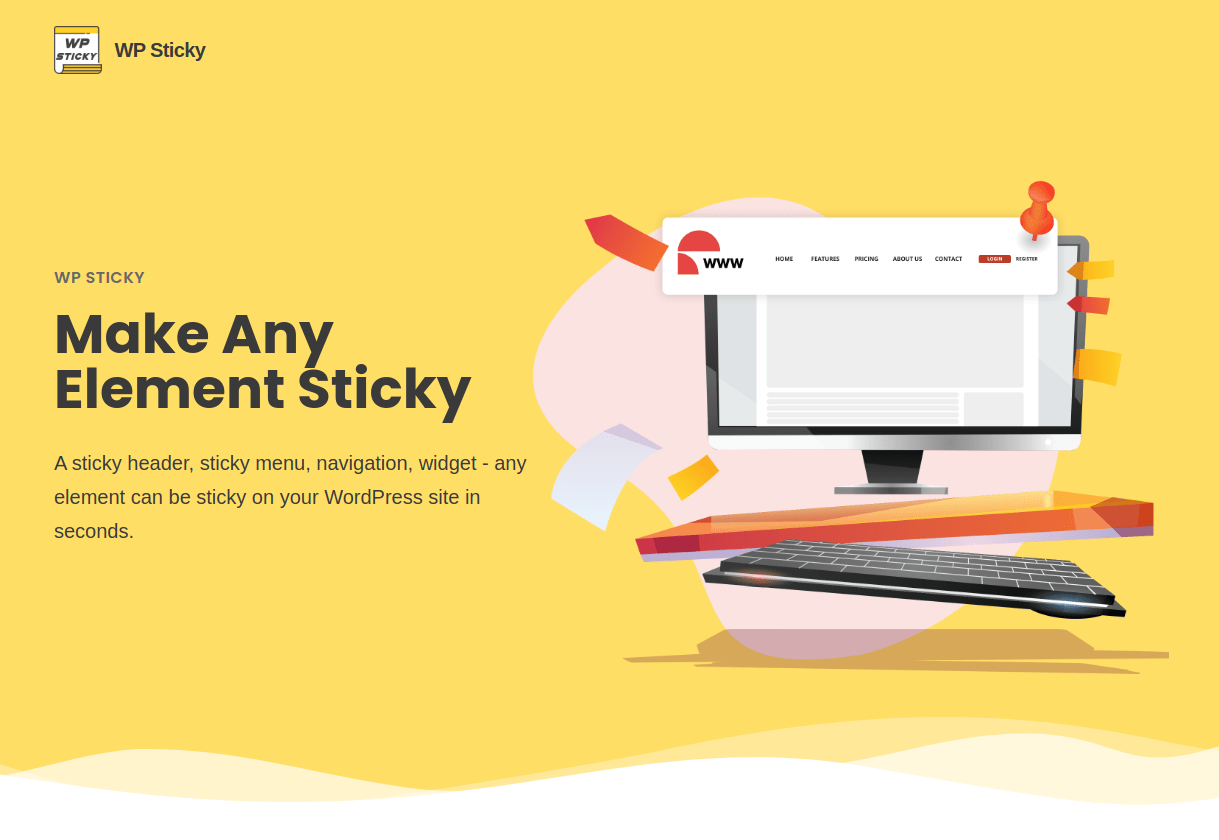 When choosing plugins, users are often rejected by customer support. However, you have no problems using WP Sticky because the customer support is at the top level. Customer support is always available, and you will get information from the people who built this plugin.
Is there anything that can limit the options of WP Sticky? Well, only your imagination can assuredly be the limit. That is why it is essential to expand your horizons and create magic with this plugin that will leave visitors breathless.
Key features:
Blazing fast
Pick Visually
Stick All The Things
Works With Everything
Pro Support
Easy and Popular
The WP Sticky plugin has multiple plans that you can purchase. Of course, there is also a free version that is really worth paying attention to. In other plans, the difference is in additional extended options and functions.
Single plan – $39
By purchasing this plan, you will receive a single-site license
Team version – license for three pages – $49
By purchasing the Agency plan for USD 99, you will receive licenses for up to 100 pages. This is a good plan if you work with several clients, and it is worthwhile. This is a purchase you will not regret.
Simple Sticky Header on Scroll
If you want to create a sliding floating header, then the Simple Sticky Header on Scroll plugin will do the ideal job. In addition, you will be able to add the header to any WordPress theme, and you will be able to customize it according to your wishes and needs. Best of all is the flexibility of this plugin. It offers you the ability to customize the header as you wish. So, in the end, it will fully match the design of your website.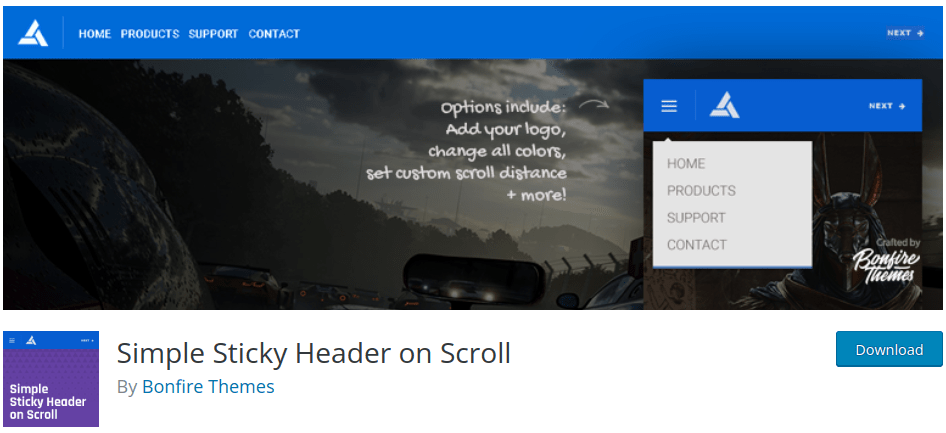 Also, this plugin has a drop-down menu. This means that your visitors will be delighted when they visit your website using smaller screens.
Key features:
Flexibility
Adding menu and logo
Simple and fast
Simple installation
Drop down menu
Fixed And Sticky Header
Another popular plugin is Fixed And Sticky Header. It has quite a lot of features like the previous plugin. It is distinguished by the fact that the use of the header will be visible to visitors all the time.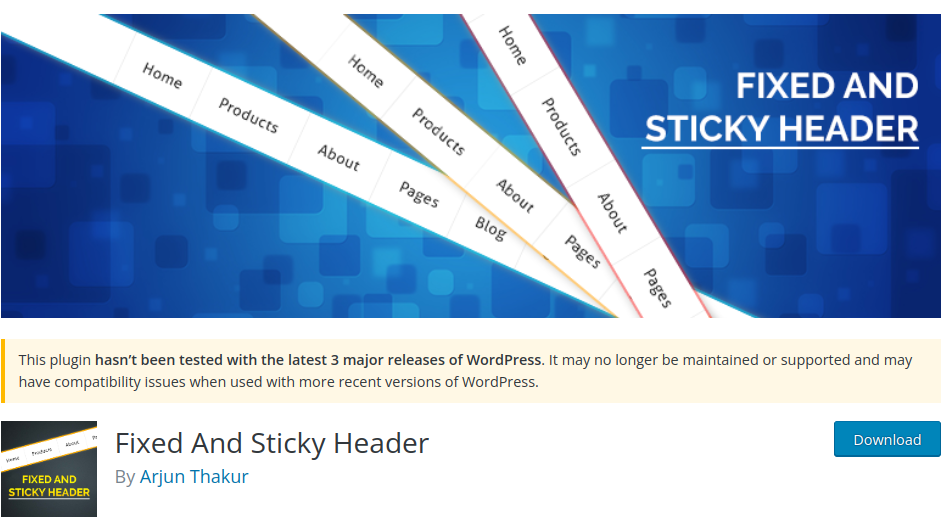 Thus, visitors will not have to worry about constantly returning to the top of the page because the header will be always visible. In addition, such a site is easy to navigate. Also, this plugin is very flexible. So you can choose text colors, background colors, etc.
Sticky Header Effects for Elementor
Before we start, you must know that this plugin can only be used with Elementor. Sticky Header Effects for Elementor is one of the better plugins of its kind on the current market, and the numerous options it offers to users make it popular.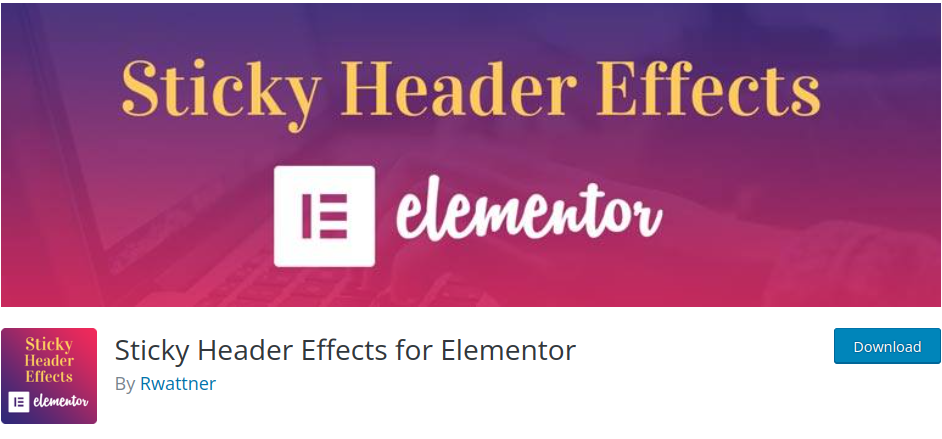 This will make it easier for you to find missing options in Elementor 2.0's sticky header. We can say that its flexibility made it somewhat popular. You can customize everything to your liking, whether it is about the color, text, or something else.
Key features:
Options panel in Elementor PRO
Bottom margin and reduce header
Adding and reducing logos
Flexibility
Changing the color, background, text…
Transparent header
Final Words
We hope that this list was useful and that it will be easier for you to make a decision about which plugin to use. However, looking at the features and the number of users – WP Sticky seems to be the ideal choice.
Even if we look at the plans it offers, there is no more opportunity to think. Of course, the decision is up to you. Although we doubt that you will have any need in addition to everything that WP Sticky offers.