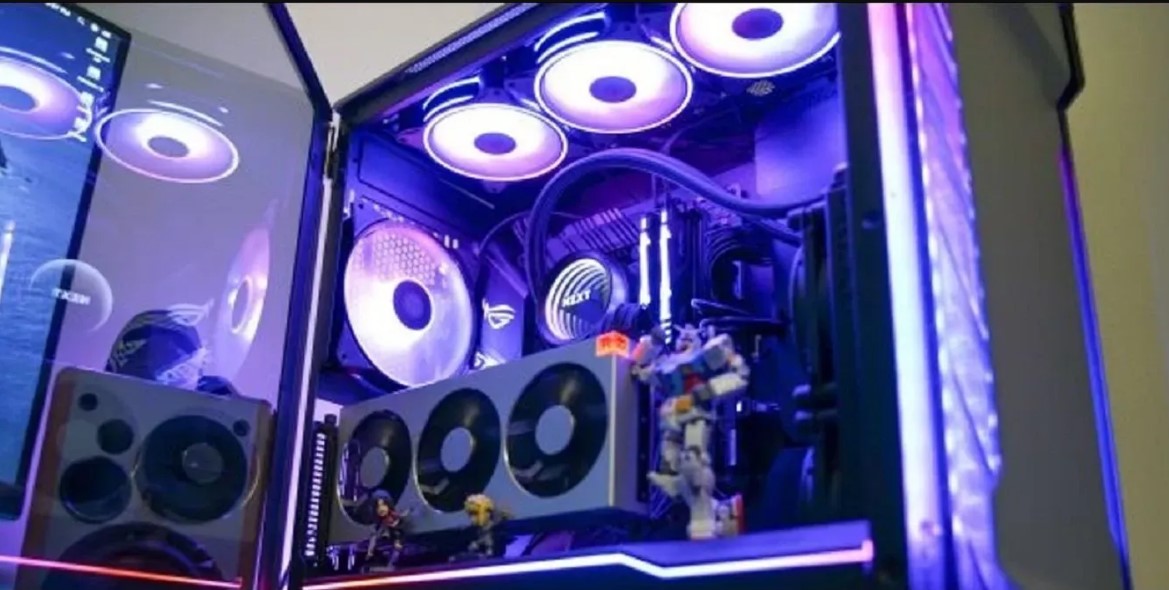 Gadgets
20 Coolest PC Cases You Can Buy In 2021
This list of distinctive PC cases is a fantastic place to start if you're building a new computer that will look as nice as it performs. In this guide, we'll go over the top 20 trendiest PC cases available in 2021.
In 2021, there are so many intriguing scenarios to choose from that we've added 5 more to our existing list, bringing the total to 20. Gamers looking for a new PC should choose a case that best represents their unique style, and this list has something for everyone.
Here Are 20 Coolest PC Cases In 2021
In Win D-Frame
The In Win D-Frame is an ideal case for the PC gamer who also enjoys monster trucks. With a similar custom water cooling loop, the aluminium piping that creates its open-air chassis looks fantastic. And if you're spending nearly $400 on a case, you're probably not going to be air cooling anyhow.
Aside from its distinctive design, the back-side PSU mount and sideways motherboard arrangement are noticeable features.
AZZA Pyramid Mini 806
The Pyramid Mini 806 is a great choice for gamers searching for something genuinely Coolest PC Cases. It's sure to draw notice and start a conversation, while also injecting some much-needed cool into the gaming room.
The Mini 806 has four tempered glass side panels that allow you to see the technological artwork inside. To keep the construction footprint modest and easy to deal with, it supports Mini-ITX motherboards.
It may not be to everyone's taste, but it's a good option for people who want to save space while sprucing up their workstations.
Cougar Conquer
The Cougar Conquer mid-tower case looks more at home in a garage than in an office, and it's priced accordingly. This one-of-a-kind open-air PC case first appeared in 2017 and is still a modder favourite today.
This case is frequently painted and vinyl-wrapped to spectacular effect, as shown in our featured build above. Because of the location of the power supply, cable extensions are occasionally required
. The newer Cougar Conquer 2, which has additionally RGB lighting but is less intriguing to us, is not to be confused with this model.
Thermaltake Level 20 XT
Cube-style Coolest PC Cases are hit or miss, but Thermaltake's Level 20 XT gets it perfectly. This magnificent case can accommodate regular M-ATX motherboards and CPU coolers with a height of up to 185mm. It can also accommodate dual 240mm radiators as well as huge fan options for excellent cooling.
The horizontal motherboard architecture of the Level 20 makes component placement a snap and helps to avoid common vertical layout concerns like video card sag. There's plenty of room to work within the box, and its modular design gives PC builders a lot of possibilities.
Lian-Li O11 Dynamic
It's no wonder that Lian-O11 Li's Dynamic is the most popular case on our list, thanks to its striking design and excellent airflow. This high-end chassis is perfect for water cooling, but it can also be used in an air-cooled setup. It contains brackets for a variety of radiators and fans.
The case's distinctive partitioned layout is our favourite feature. The chassis is divided into two sections: a showcase section for the motherboard, fans, and other associated components, and a compartment behind the motherboard that hides wires, drives, and supports two power supply units.
Only a few enthusiasts would use two power supplies in a mid-tower system, but it's still an unusual feature. Support for a vertical GPU mount is another amazing and practical feature worth mentioning.
Corsair Obsidian 1000D
If you've ever thought to yourself, "you can never have too many fans," then the Obsidian 1000D is the device for you. Corsair's behemoth does a lot more than keep your PC cool – it works on two machines at the same time!
Yes, you read that correctly. This is a dual-system case, which means you could theoretically have a gaming PC and a rendering setup in the same enclosure. Premier cooling is ensured with the presence of 18 fan mounts and support for radiators up to 480mm, but don't be shocked if your electricity bill climbs!
Thermaltake Tower 900
Thermaltake's "mega tower," the Tower 900, is massive and heavy, weighing in at 54 pounds. It features plenty of areas for specialised liquid cooling and giant glass panels to display everything. With top-facing I/O ports and a 5.25′′ bay at the front that looks amazing with a fan controller mounted, the Tower 900 has a highly distinctive motherboard layout. We wish there were more examples to back this up.
Thermaltake Core P5 V2
The Thermaltake Core P5 V2's design isn't very unique. What sets this instance apart is the range of possibilities. The Core P5 V2 can be used to stand upright, lay horizontally, or even hang on a wall.
Wall-mounted Coolest PC Cases are more difficult to repair, but they're worth it in terms of aesthetics, especially if you take the effort to tunnel wires through your wall as we did in our featured build. The Core P5 V2 has a number of features that we like, such as two different motherboard mounting positions, vertical GPU support, and excellent cable management around the rear, as well as the capacity for three more hard drives.
Thermaltake's Core P-series Coolest PC Cases are available in a variety of sizes and shapes. For a more compact ATX case, look at the P3, and for a Mini ITX version, look at the P1.
Phanteks Evolv Shift X
The Evolv Shift X may appear to be a piece of Halo Forerunner technology, but it's actually a fantastic tiny PC case made exclusively for home entertainment installations. As a result, it will blend in seamlessly with your existing video and audio equipment.
Because of the case's tiny form, it can only accommodate Mini-ITX motherboards, although that's no longer an issue. Its height allows it to accommodate a wide range of components, including liquid cooling installations, making it an excellent alternative for those looking to save space while looking stylish.
Cooler Master H500P Mesh
If the airflow is more important than anything else, the H500P Mesh is worth a second look. This case can even fit 360mm radiators in the front and top, proving that Cooler Master doesn't cut corners.
The case's transparent view design makes it simple to display your construction, fans, and even liquid cooling loops. RGB lighting also helps to bring the case to life. This is unquestionably a case for people who require the most cooling choices.
Lian-Li TU150
The TU150 is another sleek, understated casing from Lian-superb Li's Taiwanese hardware designers. This is the first case on our list with a retractable carrying handle, which is ideal for the few proud souls who still throw LAN parties or for the travelling professional who refuses to accept a laptop's performance limitations.
The TU150 is enormous for a small form factor PC box, but with a volume of roughly 24 litres, it can accommodate a powerful GPU as well as CPU air coolers as large as the NH-D15. While it isn't the most original PC case on our list, it is a useful and well-balanced chassis that is competitively priced.
Antec Cube
If you enjoy the idea of a compact cube case layout but aren't satisfied with the current possibilities, the Antec Cube might change your mind. This extremely cool ATX case was created in collaboration with Antec and stands head and shoulders above its counterparts in terms of beauty and practicality.
In fact, the Cube is so well-designed that it may trick a lot of people into thinking their build options are limited. In reality, it supports GPUs up to 350mm in length, features liquid cooling, and HDD mounts that are smartly constructed to utilise available space.
InWin 309
InWin's 309, which appears as it belongs in a Synthwave music video, utilises the principle of expression through lighting and amplifies it. If you can manage all that colour, this is one of the most beautiful Coolest PC Cases on the market.
The front panel of the case is the most beautiful element, with 144 addressable LED lights and a total of 12 lighting settings to pick from. By toggling individual LEDs and their colours in the GLOW2 software, you may build pixel-based creations on the panel. It also comes with a built-in microphone that can detect music and "dance" to the beat!
Streacom DB4
The DB4 by Streacom is timeless, modest, and silent. To passively cool your computer, custom heat pipes connect the CPU to the case's thick aluminium side panels. This is one of the first mainstream consumer enclosures to double as a low-power heatsink.
For the uninitiated, this means that your CPU is cooled by the chassis itself, which eliminates the need for a fan. The exterior's high surface area aluminium fin design passively dissipates heat, allowing your PC to run completely silently.
The DB4 is rated by Streacom for a CPU with a maximum TDP of 65W. Although this limits your CPU options to lower-power options, AMD has some fantastic new 4000-series CPUs on the way, as well as some very exciting Intel components on the way. Both should work well in this situation.
Thermaltake View 71 Tempered Glass ARGB Edition
Thermaltake's incredible View 71 has a curiously elegant and polished feel to it. Perhaps it's the tempered glass, but we believe it's more about the company's modular design approach.
Thermaltake's View 71 is one of their greatest Coolest PC Cases. It gives you a lot of options when it comes to designing a gaming PC, and there's almost nothing you can't do with it. Multiple build configurations were carefully considered, and the transparent approach to case design is a terrific way to show off your system.
Thermaltake Core P90 Tempered Glass Edition
The P90 Tempered Glass Edition from Thermaltake is another winner on our list. Its futuristic open-concept design appears like something straight out of a sci-fi film, especially if your construction features the most cutting-edge components. The 3-way placement pattern is its main draw, which is a little abstract, to say the least, but ideal for out-of-the-box PC fans.
Modular functionality is a crucial aspect in this case, as it is in most Thermaltake cases these days. The P90 can be used for almost anything, from hanging it on the wall to adding a riser card for vertical GPU arrangement and everything in between. Give the jellies to your pals without a doubt!
NZXT H1
The Xbox Series X isn't the first game console with an upright rectangular design. The NZXT H1 features a novel vertical layout and outstanding material quality at an affordable price, making it an easy recommendation. This chassis is slightly larger than an Xbox Series X at 13.5 litres, but it is still rather tiny among desktop computer cases and provides a good balance of noise and thermals.
It includes a 650W gold-rated power supply and an AIO liquid cooler, as well as a PCIe riser cable for mounting your GPU around the back of the motherboard, as do many of the smaller cases these days.
Lian Li DK-05F Desk Case
With the Cryorig Taku, the monitor stand/computer case, we scratched the surface of a dual-purpose PC case. A desk PC case takes it a step farther. The Lian Li DK-05F can accommodate two different systems and is fully motorised for sitting or standing adjustments.
It comes with various optional mounting brackets around the back so you can neatly place a monitor arm, and the smart glass top panel can be changed from clear to foggy opaque with the touch of a button.
Be Quiet! Silent Base 801
If your company's name is "Be Quiet!" you'd better be able to deliver on that promise. Thankfully, the Silent Base 801 fulfils this need. The case's conventional style is complemented with some graceful lines and a gorgeous orange accent to liven things up a little, but the excellence doesn't end there.
With a combination of insulation matting, noise dampening vents, and preinstalled 140mm Pure Wings 2 fans that are geared for quiet, efficient airflow, the case is meant to limit as much noise as possible. There's a lot more to this sleek case than meets the eye, so any gamer should give it a second look!
Cougar Gemini X Dual-System Case
The Cougar Gemini X, a wicked-looking case that can carry not one, but two different PC systems in one frame, would be of interest to more advanced gamers with a lot of cash to spend. This is ideal for players who want to use a separate PC for specialised video production, content streaming, or music production.
The 3mm thick metal chassis is quite sturdy, and the tempered glass panels add to the overall build quality. This PC case is one of the Coolest PC Cases and most adaptable on the market, with a dual ventilation system, efficient cable management, and plenty of room for twin machine components.