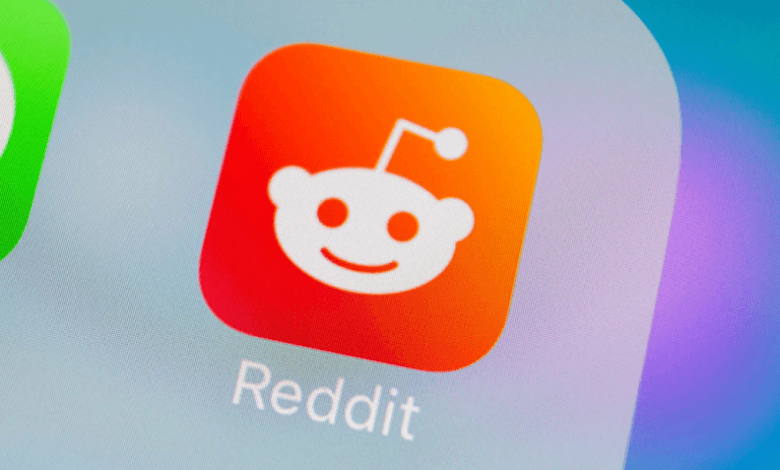 Reddit is an American top-rating social news accumulation, web content rating, and formal discussion website.
Reddit users find it so fascinating to use the platform that some users even try to buy Reddit upvotes to grow faster. Reddit can be fun sometimes, but what if you're fed up?
Maybe you've determined you'd want to strive for some other app instead, or perhaps you simply don't want to apply to the platform anymore.
Anyway, what's your reason? If you want to know how to delete your Reddit account read this article carefully. This easy process is sometimes a little bit tricky, but we'll show you how.
 Read This Before Delete Your Reddit.
When you can delete Reddit, At the time of writing, you can only do this from the desktop.
Before you remove your Reddit account, it's very important to delete posts and comments if you don't want to leave a trace. If you deactivate your account without deleting these posts and comments, you will show "unattributed" on Reddit.
When you decide to delete Reddit, the sent messages will still appear in other user inboxes which you already send, unless they delete them from their end. However, users will see "unattributed" when trying to find out who owns it.
You should also consider that if you're a Reddit Premium member, the website won't automatically cancel your subscription if you deactivate your account. Visit Reddit Help for details on how to do this.
One more thing to remember is that you can't deactivate your Reddit account temporarily. When it's deactivated, it's gone.
How to Delete Your Posts and Comments on Reddit Account
Before we starting talking about how to delete a Reddit account, let's discuss how to remove posts and comments.
Here are few easy steps below which need you to follow them.
First, go to reddit.com on your browser.
Entering your username and password, then click on login.
Go to your profile.
Here you will see the post you want to delete, select the (…) three dots and scroll down to Delete.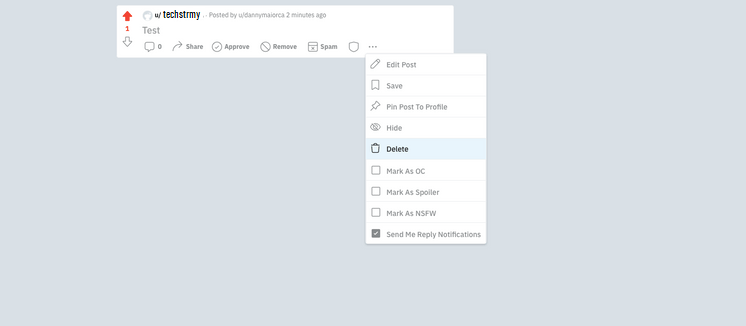 Before deleting a comment, the steps are almost logical. All you need to do is select Comments > More > Delete.
How to Delete Your Reddit Account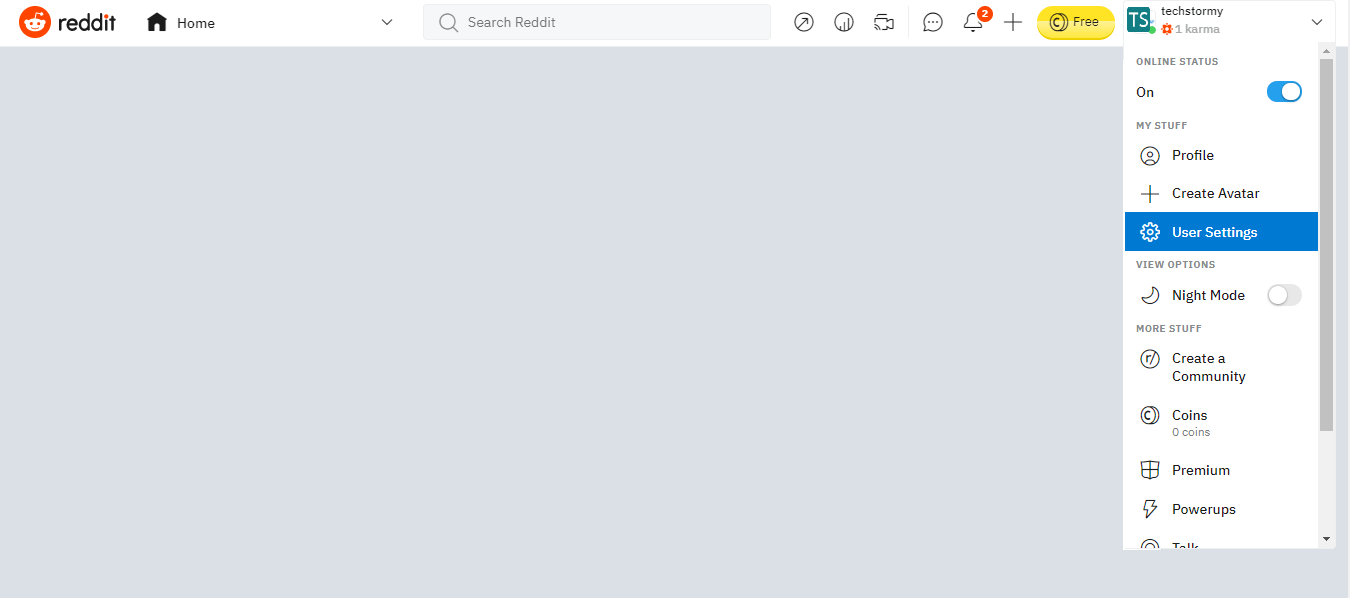 So, here you will know how to delete posts and comments on Reddit. One more thing Remember, before deactivating your Reddit account, and where to find help with canceling a Reddit Premium subscription.
Let's begin and discuss how to delete your Reddit account. To complete this Follow the easy process below.
Go to Reddit.com on your computer and sign in.
Click on the area where your username and avatar are.
On the dropdown menu that you'll then see, select User Settings.
Scroll down and click on Deactivate Account.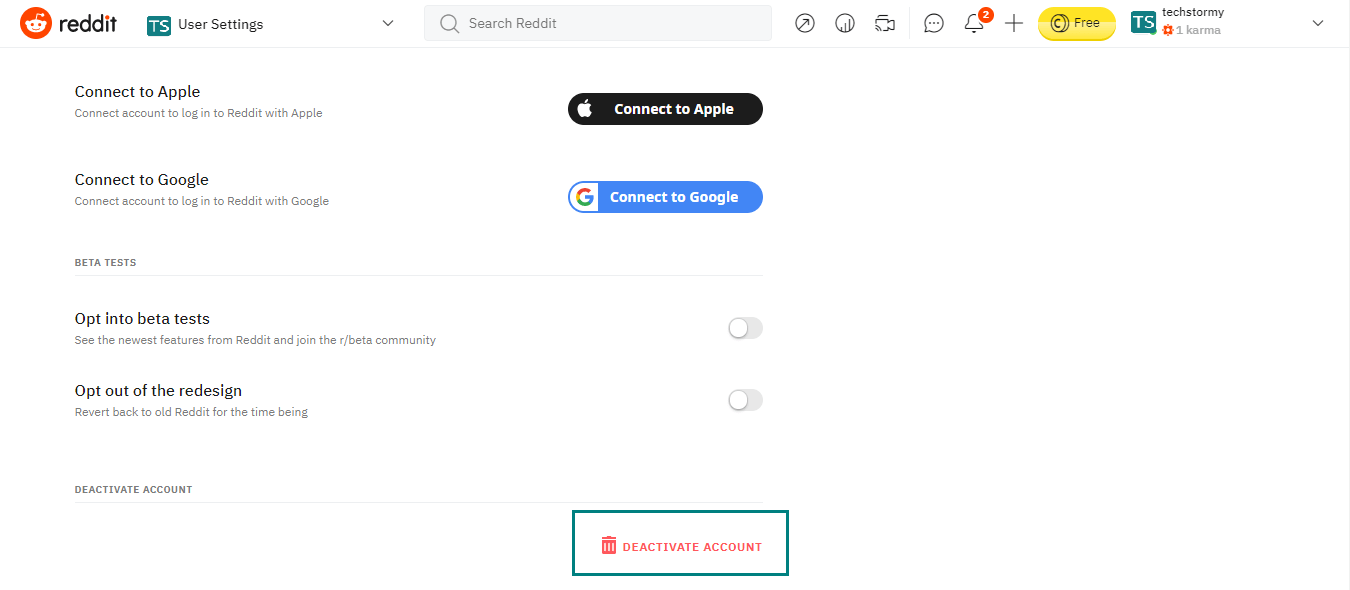 Here you must provide your username and password with optional feedback or reason etc. Tick in the "I understand that deactivated accounts are not recoverable" box and click Deactivate to continue.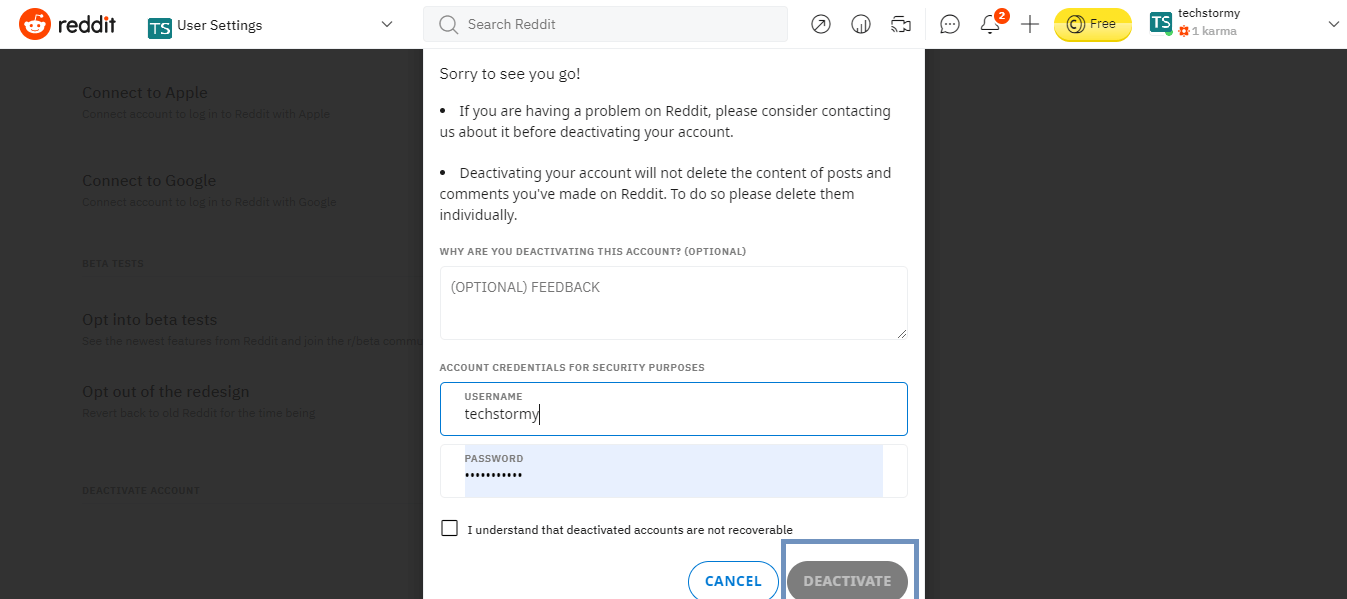 Can I Go Back to Reddit After Deleting an Account?
If you are sure that you no longer need Reddit, you can delete your account, but remember that once you delete it, you won't be able to recover it.
However, Reddit will not prevent you from rejoining because you deleted your account beforehand. If you change your mind and feel that using Reddit is better than not having it, you can register as a new user.
What to Do After Deleting Your Reddit Account
Reddit is a useful place for finding people with similar interests and having your questions answered. Having said that, though, the platform isn't for everyone, and wanting to delete your profile is perfectly normal.
In this article, we talk about how to delete a Reddit account in detail and share screen shoot. If you have any issues feel free to contact us.