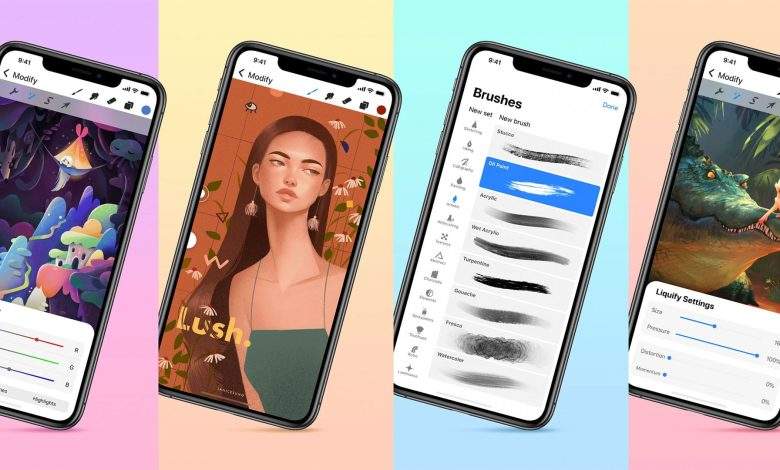 Apple
Top Drawing Apps for iPhone
Most creative professionals use iPads, sketchpads, and other tools to create drawings.
But if you need to use your iPhone, there are still great drawing apps you can use to create beautiful, high-standard digital images.
Most of these apps are compatible with both iPhone and iPad, so you can be creative wherever you are.
If you need help choosing an app, here is a list of top drawing apps that will fit every artist's creative needs.
The Tayasui Sketches app offers all the tools you need. It has various wet brushes, oil pastels, felt pens, and more.
The smudge and ruler tools allow you to correct mistakes quickly and create more complex geometric sketches.
The brush editor helps customize every brush to fit your current needs.
You can create and export layers easily. You can export them as PNG files and import PSD files.
The strokes you make adapt to the pressure, width, and angle of your movements.
Paper by WeTransfer is an award-winning app that offers all you need to produce high-standard visual content.
It helps create digital paintings, collages, and drawings by following your natural movements.
It also helps new digital artists become more experienced with many how-to activities and guides. It leads them through the basics of drawing and digital painting.
You can create images from scratch and add and arrange multiple photos on one canvas. This allows you to produce stunning storyboards in just minutes.
Paper by WeTransfer has a vast font collection, so you can incorporate textual elements in your art easily.
This feature-packed app makes creating digital art a fun and intuitive process.
It is packed with features and gives you all you need to produce quality images.
There is a variety of brushes and pens you can use. And you can pick many painting styles such as oil, watercolor, or airbrush.
It features stabilization and correction features that help you draw lines precisely. This reduces the need for the eraser tool.
Clip Studio Paint lets you import photos and paint over them.
You also get the Pose Scanner feature which creates automatic poses.
If you are familiar with Adobe products, you know that Adobe Fresco can do wonders.
This app was created with all artists in mind. It has a combination of Photoshop brushes, vector brushes, and Live Brushes, so you will be using tools you are familiar with.
You can use it as a painting app because it provides various oils and watercolors you can work with. It also comes with scalable vector brushes that create precise lines.
You also get custom brushes, layers, masking selections, and more.
Adobe Fresco lets you create time-lapse videos, and you can export your work to PNG or JPEG. It offers premium features such as integration with various apps and cloud storage.
This app offers valuable drawing tools fit for any artist.
It features more than 300 adjustable brushes, filters, screen tones, stroke stabilization, blending modes, symmetry, unlimited layers, and rulers.
With Ibis Paint X, you can record videos and share them on YouTube.
It uses OpenGL technology and an SNS feature. This helps you learn drawing techniques by watching process videos from other artists.
It comes with manga features and an advanced text tool function.
Final Words
Drawing apps for iPhone let you paint or sketch anywhere inspiration strikes.
Whether you're a professional or an art enthusiast, this list of drawing apps is made to fit anyone's needs.
These must-have drawing apps will spark your creativity and help you build your own unique art style.