How-To
HESCO Online Bill 2021 – How to Check HESCO Online Bill, Print and Duplicate Bills
Are you willing for HESCO Online Bill in 2021? So here in this article, I will discuss HESCO also provide you with a brief explanation. HESCO is the abbreviation of Hyderabad Electric Supply Company.
Hyderabad Electric Supply Company (HESCO)
The company was formed to take over/acquire all the properties, assets, and liabilities of Hyderabad Area Electricity Board owned by the Pakistan Water and Power Development Authority (WAPDA).
The company was incorporated on 23rd April 1998, and a certificate for commencement of business was obtained on 1st July 1998 from NEPRA under section 146(2) of Companies Ordinance 1984.
Rebuild Of WAPDA Power Sector
Area Electricity Board (AEB) Hyderabad was one of the eight AEB's constituted through amendments in the WAPDA Act during 1981. Later on, the Government of Pakistan approved the revamping of the WAPDA power sector in April 1998.
Resultantly twelve corporate entities were formed, Eight Distribution Companies (DISCOs), one National Transmission and Distribution Company (NTDC), and three Generation Companies (GENCOs Another hand GENCO has now been constructed. All of these businesses are registered under the Companies Ordinance of 1984.
HESCO Mission Statement & Vision
HESCO Mission
To distribute electricity for the progress and prosperity of the people in the HESCO area. To excel customer expectations with reliable and stable services by ensuring high order in maintaining all its technical facilities. To provide a safe and secure working environment for its employees.
The develop growth opportunities for employees and stakeholders. Ensure customer satisfaction with high standards of customer service in a friendly environment. To be ethical in compliance with all applicable laws and corporate practices in letter and spirit.
HESCO Vision
To ensure uninterrupted quality power supply to the company's customers, signifying HESCO's productive and constructive role in socio-economic activities and revival of the national economy through sustainable industrial and agriculture growth.
How to check HESCO Bill Online 2021? – HESCO bill online – Get a free copy of your HESCO bill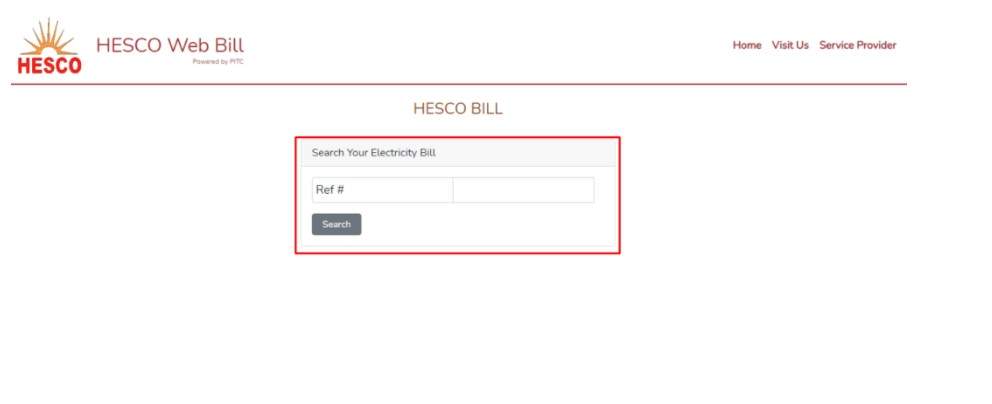 You want to Check your HESCO bill Online and get a duplicate copy of the HESCO Bill.
Here is the official HESCO Online Bill 2021 Checking Portal developed by PITC (Power Information Technology Company).

Enter the 14 Digits Reference No# With No Space (Mentioned on your BILL and on Electricity Meter)
Then Click on Search Button.
PITC System fetches your bill from the record and shows it in front of you.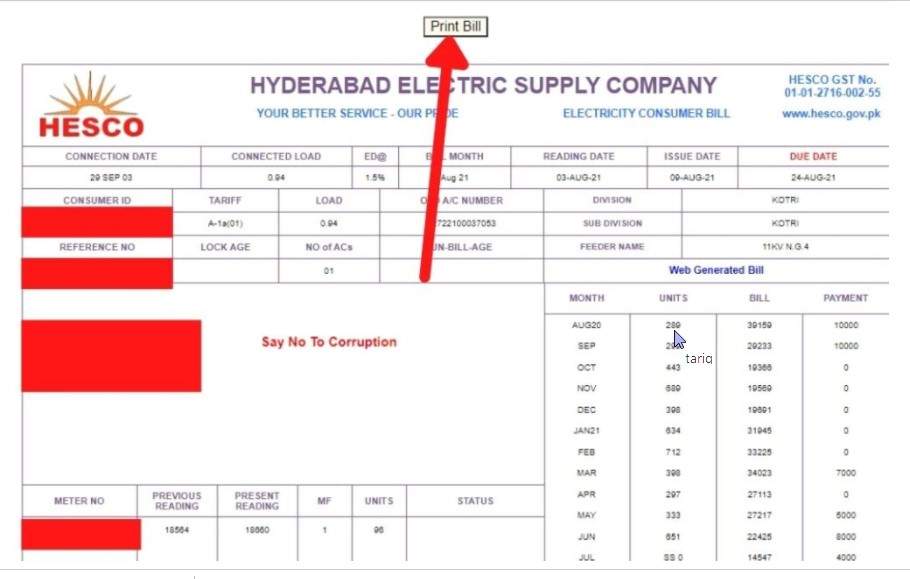 After appearing the Bill, Click on PRINT BILL, the copy of your HESCO Online Bill will be saved on your Local Device.
HESCO Area of Operations
To ensure uninterrupted supply of electricity and most intimate customer services to about 1,167,088 consumers, HESCO has administratively divided 12 districts of Sindh Province into 4 operation Circles, 15 operation Divisions, and 67 operation Sub-divisions along with 6 construction divisions and 5 M & T divisions. The company is striving day and night for the efficient and effective running of the business.
The circle is headed by Superintending Engineers (SEs), Divisions are managed by Executive Engineers (XENs), and Subdivisions are run by Sub Divisional Officers (SDOs). In addition, each division has a Customer Services Officer (CSO).
| | | |
| --- | --- | --- |
| Circle | Divisions | Sub-Divisions |
| Hyderabad | 4 | 16 |
| Laar | 5 | 19 |
| Nawabshah | 3 | 21 |
| Mirpurkhas | 3 | 12 |
| HESCO Region | 15 | 68 |
HESCO Contact Details
HESCO Headquarter
WAPDA Complex, Hussainabad Hyderabad
Sindh, Pakistan
P: (+92)22-9260161
E: dmprhescohyd@gmail.com
I hope you guys like this piece of content. If you found this helpful, please let me know in the comment section